Wholesale Products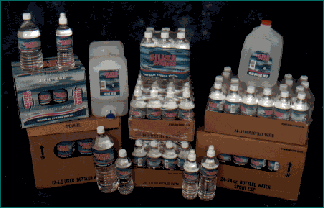 Silver Springs Bottled Water Company produces a full line of water products available in branded Silver Springs and private label packages to meet your market's needs. We produce four different types of water including: Steam Distilled, Purified, Drinking and Spring.
These four types of water can be bottled in a wide variety of packages: 5 Gallon, 2 1/2 Gallon, 1 Gallon, 1 1/2 Liter, 1 Liter and 24 Ounce bottles. Our products feature an exciting array of innovative packaging styles. These include: Sport Caps, Tamper Evident Seals, Printed Shrink Bundled Multi-Packs, Trays and Display Cases.
Silver Springs Bottled Water Company continues to update its state of the art bottling facility to accommodate the ever-changing needs of our wholesale customers. Silver Springs Bottled Water Company has the ability to service customers small and large with our automated manufacturing and production facility.
The Silver Springs Bottled Water team believes the only way to achieve Purely the Best is to exceed the expectations of our customers - customers that include: Wal-Mart, Winn Dixie and many others!
Learn more Silver Springs Bottled Water Company's wholesale options - call us today: 877-556-1854!